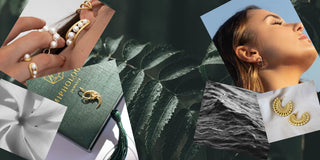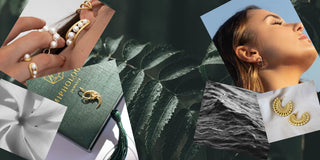 SUSTAINABILITY
Miphologia Jewelry aims to establish a strong connection with nature, which is our main source of inspiration. Creating a new product while striving to reduce the harmful impact on nature can be a challenge, but it is our key principle, which we employ in the following ways:
As a female-owned company, we aim to celebrate and empower family- and women-owned producers, and seek to support and collaborate with small companies or start-ups with a sustainable background.

We always focus on responsible quality by working with trusted suppliers who align with our brand values. Transparent communication is also one of our priorities and we aim to stay away from misleading information and create an honest relationship with our customers.

We are constantly looking for ways to continue our sustainable path and create as much positive impact as possible.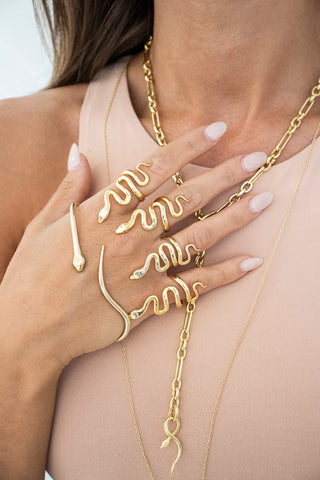 The Journey
Recycled Metals
We are now making a major shift to NICKEL FREE brass, which is used by our manufacturers and recycled from scrap, making it sustainable. Much of this recycling culture is due to the fact that the production of new brass is much more expensive and is therefore economically unviable to produce on a large scale. Brass can be recycled several times without decreasing its composition, which means that the recycling process can continue several times, making the metal highly sustainable. NICKEL FREE brass is durable and allows for excellent detail. The fine wire, once hardened, can be strong and lightweight, especially ideal for large or boho earrings.
Packaging
We package our products in a way that is sustainable for the planet, using recyclable packaging such as paper and natural fabrics. Our boxes and pouches are entirely handmade, but are durable enough to be reusable. Our packaging partner is a small, family-run artisan company located close to our handmade jewellery workshop.
Cubic Zirconia (CZ)
Another bearing material for us, a high-quality substitute for natural diamonds. Cubic zirconia is more sustainable as it is not mined but created in a laboratory. Cubic zirconia has a smaller carbon footprint and does not contribute to deforestation or negative impact on ecosystems. Again, cubic zirconia is an environmentally friendly option.
Pearls
At Miphologia, we take pride in sourcing our pearls from carefully cultivated and ethically farmed sources. We prioritize environmental protection and adhere to strict guidelines throughout the cultivation process. By ensuring our pearls are ethically sourced, we contribute to sustainable practices and reduce the impact on the environment. Our commitment to these guidelines guarantees that our customers can enjoy our exquisite jewellery with the knowledge that it was produced responsibly and in harmony with nature.